It's good to be back in the blogging world especially today when I checked online, Google doodles the 155th Anniversary of Pony Express, which even more excites me.
I actually have known nothing about the Pony Express. But of course, thank you to Google and online resources for sharing and made information available to everybody then.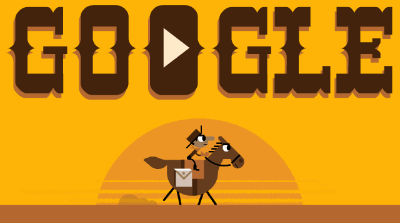 Google Doodles 155th Anniversary of Pony Express
Here's some relatively helpful information regarding Pony Express. Pony Express is actually a mail service way back then which caters delivery of messages, newspapers, mail, and small packages fro and to different parts of the United States by a horseback.
Oh well, that sounds really exciting to think about Pony Express. For a kiddo of recent generation like me, indeed, seeing a one in a horseback delivering stuff would be fun and a must-try experience.