American soldiers put their lives on the line every day to protect the freedom of citizens back home. When a close friend or a relative enlists in the military and winds up overseas, you probably worry about his or her safety every day and wonder if there is anyway you show your appreciation. While some only think gifts are appropriate around the holidays, you can send your loved one a gift any day of the year. As the military has regulations and rules in place regarding the size and weight of packages and what you can send, you may want to get some good gift ideas.
Treats from Home
By the time that a batch of soft and yummy cookies reaches a soldier overseas, those cookies will probably look dried out and taste even worse. Instead of making treats, give your soldier the same type of treats he or she might enjoy at home. Make sure you include enough for others in the troop too. Try to avoid chocolate, which will melt in the beat and may get smashed during shipping. Think about potato chips that come in cans or individually sized servings, hard candy, suckers and gum.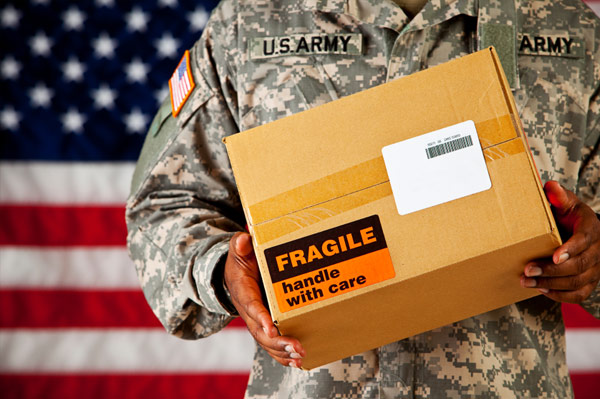 Entertainment Gifts
Soldiers don't spend every hour of every day working in the field, and some have quite a bit of downtime throughout the week. Give your overseas soldier something to read or do during one of those downtimes. Puzzle books are great because they can strengthen their brains as they work through those puzzles. If your loved one has access to a DVD or Blu-Ray player, send some recent flicks that might not be available overseas yet. You can also include a few newer magazines, some comic books and even adult coloring books with colored pencils.
Toiletries
American troops in Iraq and other parts of the world might spend hours working under the hot sun and have limited access to fresh water for bathing. Send your soldier a car package loaded with the toiletries that he or she needs. Including shampoo, body wash, soap, deodorant, mouthwash, toothpaste and a new toothbrush. This type of care package is a simple way to let your loved one know that you care. Whether your solider will come home next month or next year, you can still show your love and appreciation with gift ideas like books, movies, toiletries and treats from home.