According to Dr. Adam Briton, an Australian expert on wild animals and authenticator of the Guinness Book of World Record for reptiles and snakes, 'Lolong' is the biggest Crocodile in the World, so far, being captured.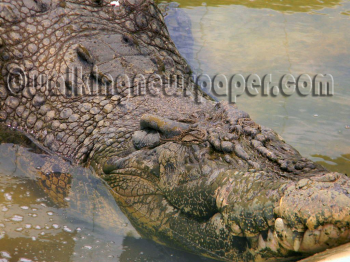 'Lolong', Biggest Crocodile in the World
"I am glad to pronounce tonight, that the actual and final measurement of crocodile named Lolong here in Bunawan is 20 feet and three inches long, the biggest so far all over the world. Because of this final report, Lolong will now be the title holder as the biggest crocodile in captivity worldwide," Dr. Briton said who went to Bunawan, Agusan del Sur on October 31, 2011 to personally conduct research survey about 'Lolong'.
More about 'Lolong' is biggest croc in captivity.